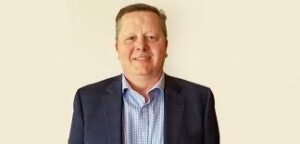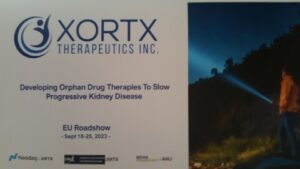 ● XORTX's Proprietary Formulation of Oxypurinol – XORTX Therapeutics Inc. ("XORTX" or the "Company") (NASDAQ: XRTX | TSXV: XRTX | Frankfurt: ANU), a late-stage clinical pharmaceutical company focused on developing innovative therapies to treat progressive kidney disease, announces that it has submitted an Orphan Drug Designation application for XORLO™ to the European Medicines Agency (the "EMA"). The "orphan-drug designation request is for the use of XORTX's patented unique proprietary formulation of oxypurinol – XORLO™ – for the treatment of autosomal dominant polycystic kidney disease (ADPKD)".
The orphan drug designation process ("ODD") initiated with the submission of this application and is made to the EMA's COMP (Committee for Orphan Medicinal Products) office. To support this application, a focused data package was provided that included: a review of the basic science related to the mechanism of injury associated with aberrant purine metabolism and hyperuricemia as well as the evidence that XORLO™ attenuates the accelerating effect of kidney injury, analysis of the number of European patients with ADPKD and arguments to support the likelihood that the new therapy, XORLO™, will provide significant, clinically meaningful benefit compared with existing treatment. The EMA's COMP office, will review this initial application package and provide feedback and a decision, which is expected in December of this year.
Dr. Allen Davidoff, CEO of XORTX, during a short presentation made last thursday sept 21st at the beautiful location of the Boeuc Restaurant in Milan stated,: "This EMA ODD submission represents a key milestone for the Company regarding new and existing discoveries made by XORTX and its novel approach to slowing progression of kidney disease in ADPKD. It also follows on receipt of ODD status granted by the U.S. Food and Drug Administration in April 2023. Further updates will be provided once the EMA COMP renders its decision."
Benefits of EMA Orphan Designation include: Reduced fees for protocol assistance, market authorization applications and annual fees for authorized medicines; Automatic access to centralized procedure for EMA marketing authorization, access to research grants, a simplified approval process and 10 years of market exclusivity. Further information regarding the incentives for orphan designation are available at: https://www.ema.europa.eu/en/human-regulatory/research-development/orphan-designation/orphan-incentives
About Orphan Drug Designation in Europe
The EMA is responsible for reviewing applications from sponsors for orphan designation. To qualify for orphan designation, a medicine must meet a number of criteria:
it must be intended for the treatment, prevention or diagnosis of a disease that is life-threatening or chronically debilitating;
the prevalence of the condition in the EU must not be more than five in 10,000 or it must be unlikely that marketing of the medicine would generate sufficient returns to justify the investment needed for its development;
no satisfactory method of diagnosis, prevention or treatment of the condition concerned can be authorized, or, if such a method exists, the medicine must be of significant benefit to those affected by the condition.
Applications for orphan designation are examined by the EMA's COMP office using the network of experts that the EMA's COMP office has built up. The evaluation process takes a maximum of 90 days from validation.
https://www.ema.europa.eu/en/human-regulatory/overview/orphan-designation-overview
About the XRx-008 Program
Oxypurinol is a xanthine oxidase inhibitor ("XOI") with important pharmacologic characteristics ideal for administration to individuals with ADPKD.
Key pharmacologic attributes include:
1/ The ability to act in the circulation, kidney and cardiovascular tissue and inhibit the production of uric acid thereby attenuate the related mechanism of injury whereby xanthine oxidase accelerates the progression of renal and cardiac diseases.
2/ XORLO™ provides substantially increased absorption of oxypurinol. This approach provides an effective, well tolerated drug with an extensive clinical safety experience suggesting the Company's XRx-008 program has the capacity to provide an XOI with a superior product profile indicated to slow the accelerating decline in kidney function in ADPKD patients.
About ADPKD
ADPKD is a rare disease that affects more that 10 million individuals worldwide.1,2 ADPKD is typically diagnosed based upon expansion of fluid-filled cysts in the kidneys. Over time, the increasing number and size of cysts can contribute to structural and functional changes to kidneys and is frequently accompanied by chronic pain which is a common problem for patients with ADPKD.3 Expansion of cysts is thought to compress healthy functioning tissue surrounding the cysts and contribute to further loss of kidney function, fibrosis, impaired nutrient exchange and impaired kidney function, leading ultimately to end-stage renal disease.1 For individuals with progressing ADPKD, treatment recommendations include anti-hypertensive treatment, dietary restrictions, and, for a limited percentage of suitable patients who can tolerated ADPKD specific pharmacotherapy.4 New, more broadly applicable therapies to effectively slow decline of kidney function in ADPKD are needed.
About XORTX Therapeutics Inc.
XORTX is a pharmaceutical company with two clinically advanced products in development: 1) our lead, XRx-008 program for ADPKD; and 2) our secondary program in XRx-101 for acute kidney and other acute organ injury associated with Respiratory Viral infection. In addition, XRx-225 is a pre-clinical stage program for Type 2 Diabetic Nephropathy. XORTX is working to advance its clinical development stage products that target aberrant purine metabolism and xanthine oxidase to decrease or inhibit production of uric acid. At XORTX, we are dedicated to developing medications to improve the quality of life and future health of patients with kidney disease. Additional information on XORTX is available at www.xortx.com.
care of the redaction