Prossima fermata della «House of Switzerland»: Milano! Dopo una prima tappa a Stoccarda, che ha avuto molto successo, dal 26 aprile la Svizzera si presenterà in un'altra regione strategica, appena oltre il confine. Nella capitale del design e della moda, mostrerà il suo lato innovativo e creativo.
Da fine aprile a metà giugno, a due passi da Corso Garibaldi a Milano, la «House of Switzerland» si insedierà all'interno di un importante luogo crativo, la Casa degli Artisti. Situata in Brera, il quartiere del design, fungerà da punto d'incontro tra l'Italia e la Svizzera e diventerà una piattaforma di scambio dove gli attori dell'economia, della scienza, della politica e della cultura svizzeri e italiani potranno dialogare e scambiare opinioni sulle prospettive comuni per il futuro.
Nei suoi 1250 metri quadrati distribuiti su tre piani, la «House of Switzerland» organizzerà una serie di eventi tematici ed esposizioni temporanee. Sono previste tavole rotonde, incontri di networking e ufficiali, workshop e proiezioni di film sui temi dell'innovazione, della sostenibilità, dell'arte e della cultura.
E il primo giorno di giugno nella splendida location Dagorà , ha organizzato una giornata per portare la Svizzera a Milano ecco l'agenda del giorno dell'evento presieduto da Carlo Terreni, President of the Lifestyle-Tech Competence Center
AGENDA of the DAY (1st June 2022)
10.00 – 10.05
Welcome – SABRINA DALLAFIOR (Console generale di Svizzera)
10.05 – 10.15
Switzerland a Destination Hub for Innovation – ROLF BÜHLER (Director Europe @Greater Zurich Area)
10.15 – 10.25
Ticino Innovation Hub in the Heart of Europe – LUCA NONELLA (Economic Consultant @Canton Ticino Economy Development Office)
10.25 – 10.50
How to engage, collaborate and perform R&D activities in Switzerland in the lifestyle sector? – CARLO TERRENI (President @Lifestyle Tech Competence Center)
10.50 – 11.00
Our company experience in Ticino – GIORDANO BRUNI (CEO @HRM Group)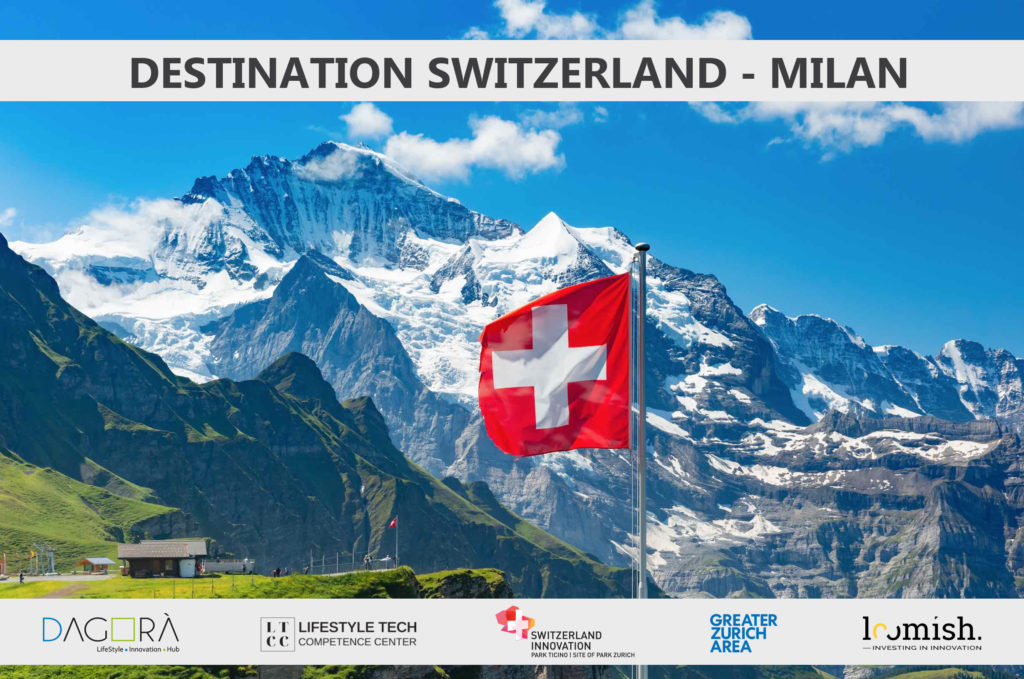 11.00 – 11.20 Coffee Break
11.20 – 11.40
From Co-mmunity to Co-Working – SERSE BONVINI (CEO @Dagorà Lifestyle Innovation Hub)
11.40 – 11.50
PlanB – Why Lugano for Blockchain and Crypto businesses? – PIETRO PORETTI (Director @Divisione Sviluppo e Economia Città di Lugano)
11.50 – 12.05
My Crypto experience in Lugano – ROBERTO GORINI (Co-Founder @Noku)
12.05 – 12.20
An overview on Swiss Taxation System and company set-up – ANDREA MERLI (Director @Loomish SA)
12.20 – 12.30
Closing – STEFAN ZWICKY (Head of Swiss Business Hub Italy @Consolato generale di Svizzera)
12.30 (Standing Lunch
In occasione della Milano Design Week 2022, che si tiene in giugno, la «House of Switzerland» sarà ,inoltre, interamente dedicata al design svizzero di fama mondiale. In collaborazione con Pro Helvetia e con varie scuole universitarie e accademie d'arte svizzere – l'Haute École d'Arts Appliqués, (HEAD), l'École cantonale d'art de Lausanne (ECAL), i due Politecnici federali, la Scuola universitaria professionale di Lucerna (HSLU) – oltre che con l'Istituto Svizzero di Milano e diversi partner del settore privato, la «House of Switzerland» presenterà la vitalità del panorama del design svizzero. In questa occasione una nuova generazione di designer svizzeri presenterà il proprio lavoro, incentrato sugli effetti dei cambiamenti sociali, ecologici e tecnologici sui nostri spazi di vita.
Oltre alle esposizioni e agli eventi, la «House of Switzerland» proporrà anche incontri culinari con la Svizzera. Il bistrot interno «Degustazione» sarà sinonimo di una gastronomia impegnata e responsabile nei confronti della comunità e dell'ambiente. Al bistrot, basato sul concetto di Slow Food, si potranno trovare piatti arricchiti con erbe selvatiche, aromatiche e medicinali: per un'esperienza dal gusto indimenticabile. Per tutta la durata della presenza a Milano della «House of Switzerland» l'offerta sarà completata con prodotti svizzeri selezionati e sostenibili.
La «House of Switzerland» è un progetto del «Team Svizzera» che comprende: Presenza Svizzera, l'Ambasciata di Svizzera a Roma e il Consolato generale di Svizzera a Milano e i partner strategici Svizzera Turismo, Switzerland Global Enterprise/Swiss Business Hub Italia e Pro Helvetia.
a cura della redazione